January 11, 2021
4 Self-Care Tips for Extended-Stay Travellers
Share
Our homes are havens of comfort, warmth and belonging. And, if you've ever experienced loss or damage to yours, it can be painful to part with those fond memories. During this time, you might have to claim home insurance living expenses, which will cover your costs while you live at alternative accommodations. This change in environment can cause stress—and that's completely normal.
So, while you're away from home, it's vital that you not only rebuild your space, but also protect your mental, emotional and physical wellbeing. Are you being kind to yourself? Are you deliberately prioritizing your needs? If you need a hand getting started, we've compiled 4 tips for you to practice self-care while you get back on your feet.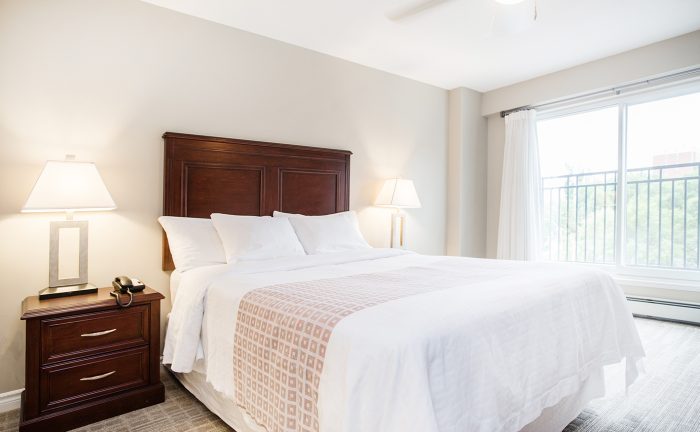 Spend time with loved ones
You're not alone. Now more than ever, be sure to surround yourself with good friends, caring family members and supportive colleagues. Confiding in them about your experience can help you work through difficult emotions and experiences. Or, if you're not ready to talk just yet, the simple presence of the people you love can provide the companionship you need at this time.
Create your own comfort
Self-care is completely personal and unique to you. So, take a minute to ask yourself: What rituals and activities will help me feel balanced and grounded? For some people, it's immersing in a calming, restorative meditation. For others, it's escaping into an inspiring book. Or, you might find listening to your favourite album helps you process your emotions. Choose the best routine for you, and make it a daily habit.
Stay at supportive alternative accommodations
It's tough to imagine anywhere as comforting as home. But, on your search for alternative accommodations, you can come close to capturing that feeling. At Canterra, our cozy hotel suites in downtown Edmonton come equipped with multiple bedrooms, full kitchens and in-suite laundry. We also offer direct billing for additional living expense coverage claims, so you don't have to worry about keeping tabs on expenses while you renovate your home.
Eat, sleep & exercise
This old adage sounds like common sense, but all too often, we forget to prioritize our physical health. If you've been uprooted from your home, you may find it especially challenging to keep to your regular routines. But, be sure to pause and give your body the love it needs.
While staying at Canterra, take advantage of your modern kitchen to cook healthy meals that nourish and replenish you. Located in downtown Edmonton, we're steps from a grocery store, so you can grab all the fresh ingredients you need. Head to our fitness room to get your blood pumping on the treadmill. At the end of the day, tuck yourself in your private bedroom and wind down with a good book to soothe you into a full eight hours of sleep.
Self-care is all about taking the time to heal both your body and mind. Losing your home or possessions can be trying, but if you listen to yourself and prioritize your true needs, you'll feel stronger and happier tomorrow.
Are you in need of long-term alternative accommodations? Do you have questions about direct billing your additional living expense coverage claims? Call us at 780 421 1212, email us at info@canterrasuites.com to book your spacious suite in downtown Edmonton and learn how you can benefit from our insurance direct-billing program.
Back To News

Your health, welfare and safety are paramount when you stay at Canterra Suites. We have implemented increased guest room and hotel common area cleaning protocols and processes.
Our focus is to ensure we meet our guest needs while doing our part to keep you, our associates, and our communities safe.
Our housekeeping staff are paying particular attention to high touch point areas, to include key cards, elevator doors and buttons, door handles, locks and latches, light switches, desk surfaces, telephones, television remote controls, and bathroom fixture handles.
We have heightened sanitizing attention to our common areas, such as the front desk, and lobby area.
We want to reassure you that we are taking every reasonable precaution to promote a safe and healthy environment. Your health and well-being are our highest priority and we truly appreciate the trust that you place in us when you choose to stay at Canterra Suites.
Please be advised to protect our team and their families, we are not accepting any reservations from guests who need to quarantine at this time. We thank you for your understanding and apologize for any inconvenience this may cause.